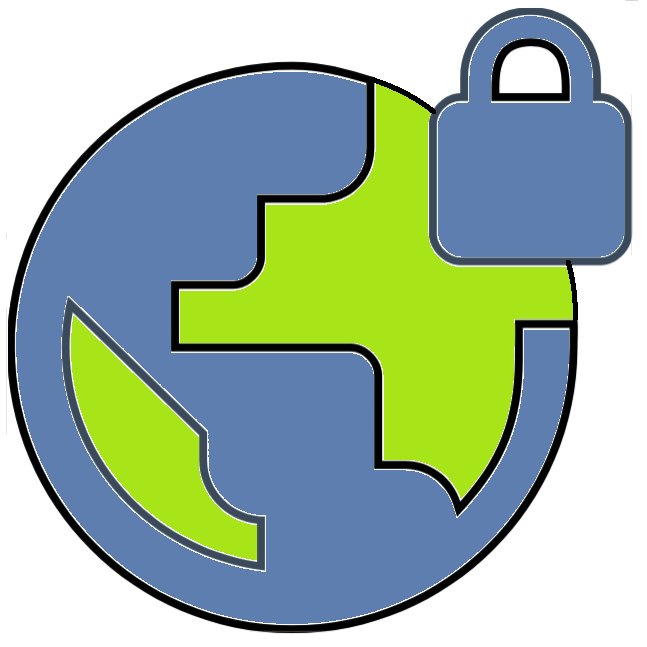 Bytz VPN - iOS Installation
Video of Instructions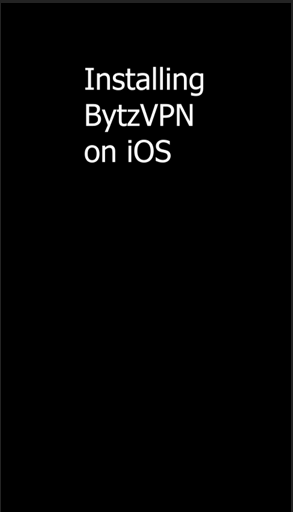 Instructions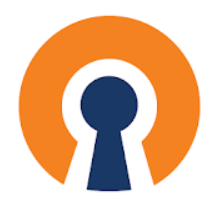 First, download the OpenVPN Connect app from the AppStore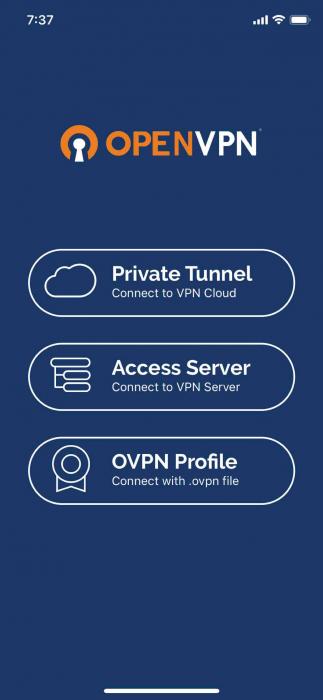 Before you proceed, make sure you have your BytzVPN username and password available. During purchase, it will be automatically created and you will see it in SETTINGS - MY ACCOUNT SETTINGS on Brax.Me (one of the checkmarked items). You will also receive a chat message from Tech Support with the credentials.



Next, make sure you are looking at these instructions on SAFARI (don't use other browsers for this like Brave, or Firefox) and go back to this installation page for IOS.


1. Before we start, we need to check that Safari is set to download files to the phone. Go to Settings on the iOS and find Safari. And then ensure that the DOWNLOADS option is set to "On My iPhone" as shown in the picture below.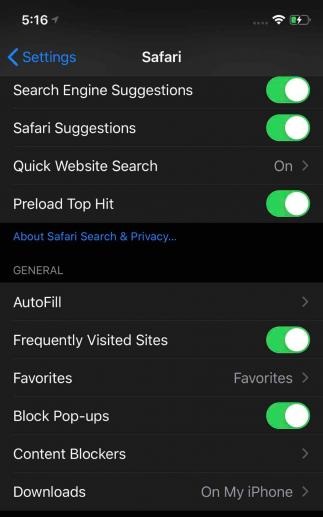 2. Now, go back to Safari and select one of the ovpn profiles you want from the list of VPN profiles below. Below the list of VPN profiles, you will see the page that will be displayed each time you click on an ovpn file.
You can repeat this step to download all the ovpn files you want before proceeding to step 3.
If you are on the BytzTOR plan, you only need the TOR ovpn.
VPN Profiles
VPN Profiles are your choices of VPN servers. Each one represents a server location or a pool of servers in a location. Each pool area represents a location where we have servers.

The NoAds profiles are ones that have DNS blocking of ad domains using a pi-hole server.

Usually, the closest server to you is the fastest and best choice for performance. But you can use any location that suits your purpose.

America - Seattle
BytzVPNSeattle-NoAds.ovpn (10/2/23)
America - California
BytzVPNWest2-NoAds.ovpn (3/29/21)
America - Chicago
BytzVPNChicago-NoAds.ovpn (10/2/23)
America - NYC
BytzVPNEast-NoAds.ovpn (2/5/21)
America - Dallas
BytzVPNSouth2-NoAds.ovpn (2/5/21)
America - Atlanta
BytzVPNAtlanta-NoAds.ovpn (8/29/21)
America - Miami
BytzVPNMiami-NoAds.ovpn (10/23/23)
America - Toronto
BytzVPNToronto-NoAds.ovpn (2/5/21)
Europe - Stockholm
BytzVPNStockholm-NoAds.ovpn (10/2/23)
Europe - London
BytzVPNUK-NoAds.ovpn (11/1/20)
Europe - Frankfurt
BytzVPNGermany-NoAds.ovpn (11/1/20)
Europe - Paris
BytzVPNParis-NoAds.ovpn (10/2/23)
Europe - Milan
BytzVPNMilan-NoAds.ovpn (10/2/23)
Australia - Sydney
BytzVPNSydney-NoAds.ovpn (8/16/20)
Asia - Mumbai
BytzVPNMumbai-NoAds.ovpn (6/25/21)
Asia - Singapore
BytzVPNSingapore.ovpn (11/9/20)
BytzVPNSingapore-NoAds.ovpn (11/9/20)
Asia - Japan
BytzVPNJapan.ovpn (08/29/21)
BytzVPNJapan-NoAds.ovpn (08/29/21)
TOR Pool
BytzVPNTOR.ovpn (7/13/20)
Always check the BytzVPN chat on Brax.Me for additional info.

Note: Other previous profiles that are not listed have been deprecated.
When you click on an ovpn profile, this page will appear in Safari for the file you clicked on. Select the option to download the file.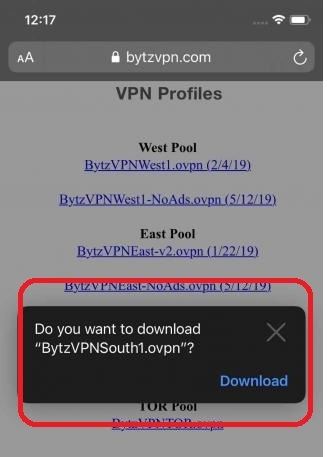 3. After the download is complete (of one or more files), there will be a blue down arrow icon in the upper right hand corner of Safari which will indicate that files were downloaded. Click on that blue down arrow.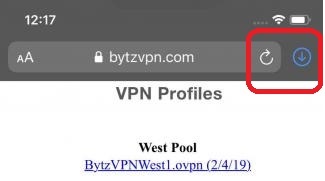 4. This will now display the downloaded file. Or if you did this for several files you may see several on the list. We will only work on .ovpn files on the list. Here's an example showing multiple downloads.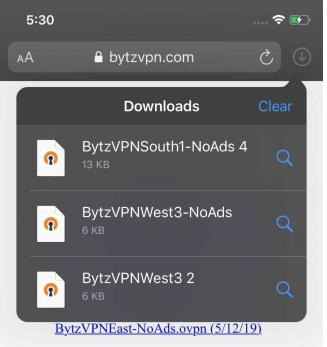 5. Now click on the first ovpn file you want to import, and this new page below will appear. Pay attention to the Blue Share icon on the upper right hand corner. Click on that.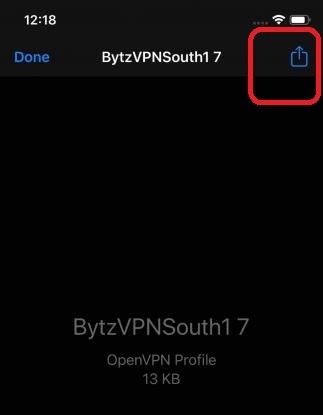 6. A scrollable list of app icons will appear below. You will need to scroll that list to the right.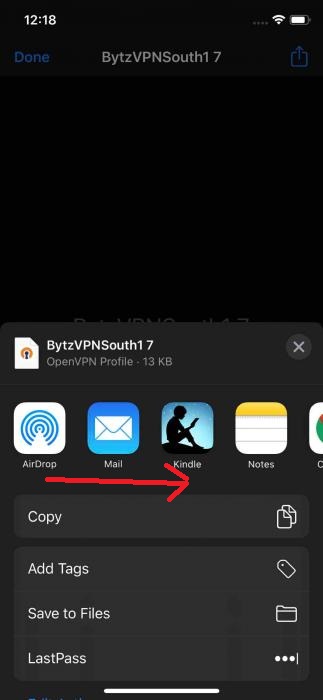 7. The very last app icon on the right will have the 3-dots (ellipsis) as the icon. Click on that.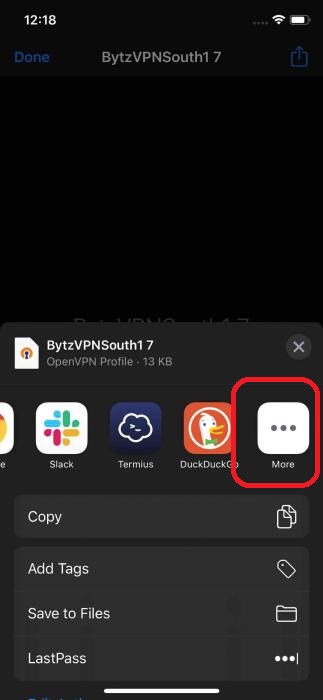 8. This will now display the list of apps below. Look for the option COPY TO OPENVPN. And click on that.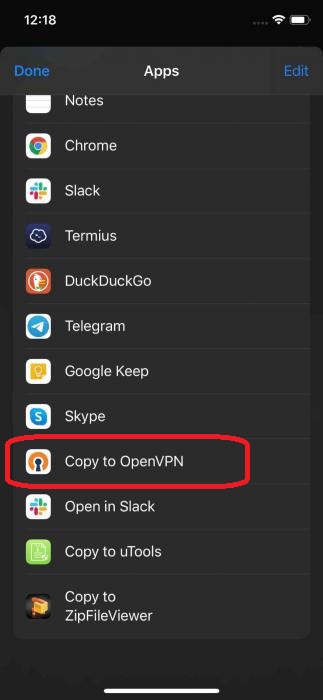 9. The .ovpn profile will now be available for adding to OpenVPN. Now, click on Add.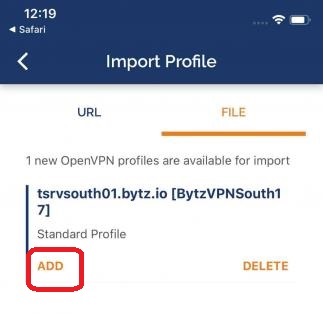 10. The profile will now be added and now the final step is to enter your VPN credentials which is your username, password, and a Private key phrase (if needed).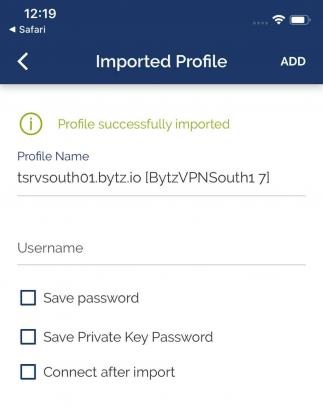 11. Make sure to check the box on Save Password, Save Private Key Password so you can enter your credentials.

Then when you are done, click on the Add option on the upper right hand corner.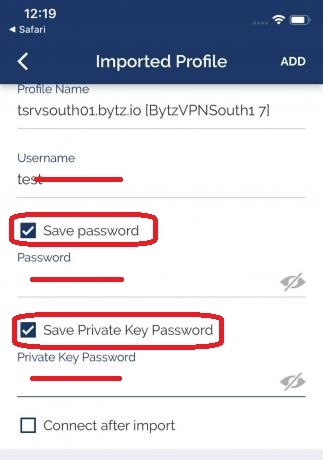 12. When you have completed adding all the profiles, it will show the list of VPN profiles as shown in the example below. The list will be based on what you have imported.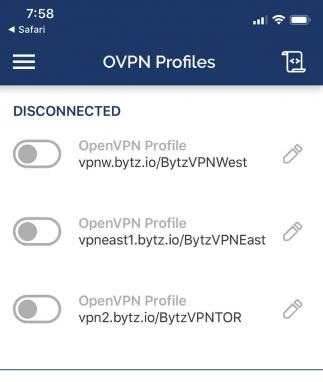 13. To use a VPN, select the desired VPN (it will get a checkmark), enter the login credentials (username and password) given to you. Select SAVE to save the settings and connect.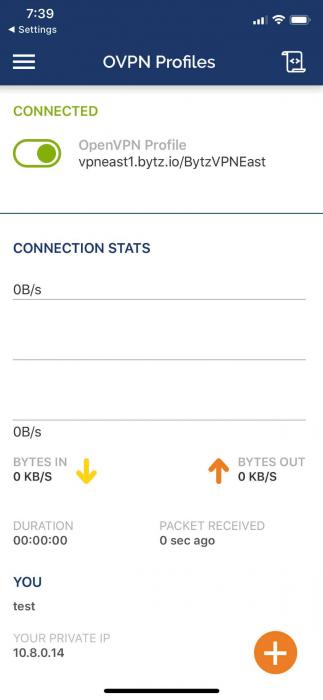 14. One final thing, go to SETTINGS on OpenVPN and in the TLS section, select TLS 1.2 if that has not been selected.